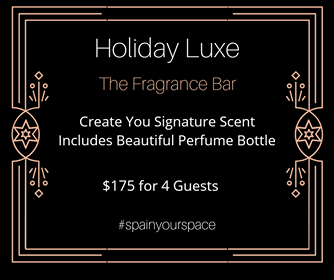 Fragrance Package (4 Guests - $175 total)
Enjoy a Fragrance party with your friends as you create your very own Signature Fragrance. The Fragrance specialist will educate you on the basics of Fragrance creation then walk you thru creating a scent that is truly your own. Your Fragrance will be transferred to a bottle of your choice for your everyday use. The Fragrance Bar is unisex allowing men to create a Signature Cologne for themselves.
Fragrance Luxe – Purchase Now!!!
---
---
---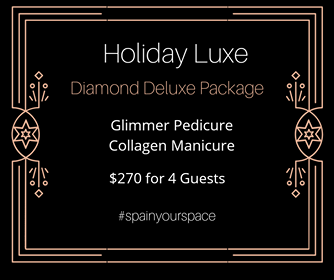 Diamond Deluxe Package(4 Guests - $270 total for group Spa Party)
Package includes the following services:
Collagen Hand Treatment With Polish
Your treatment begins with the application of our deep moisturizing Deluxe Collagen gloves that are pre-filled with Collagen and Vitamin E.  Service includes nail shaping, buff, massage and polish.    **Note: We do not remove your current Gel/No-Chip polish on-site**  
Glimmer Pedicure
Have a little fun with our Glimmer Pedicure that will leave you sparkly with our gold or unicorn colors. Each Glimmer Pedicure includes a foot softening Sea Salt Soak, Sugar Scrub, Mud Masque, Cooling Gel Mask, Massage Cream and polish with our Vegan friendly Zoya nail polish.
Diamond Deluxe – Purchase Now!!!
---
---
---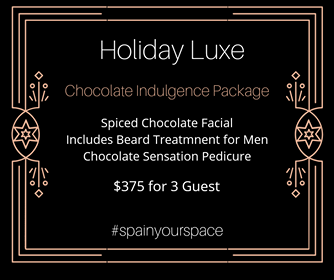 Chocolate Indulgence Package(3 Guests - $375 total)
Package includes the following:
Spiced Chocolate Facial
Get a Candy Cocoa Glow for the Holiday. This Unique Facial is sure to leave your skin radiant and ready for those holiday events. Enjoy enticing holiday aromas of cinnamon, chocolate and cherries as skin is bathed in rich, hydrating luxury, essential antioxidants and nourishing support.
Chocolate Pedicure
Start your Chocolate Pedicure experience by soaking your feet in a chocolate scented sea salt soak in our heated pedicure unit while also receiving a vibrating foot massage. Enjoy the hydrating effects of chocolate throughout the treatment, which includes a chocolate salt scrub, mask and chocolate butter massage.
Chocolate Indulgence Luxe – Purchase Now!!!
---
---
---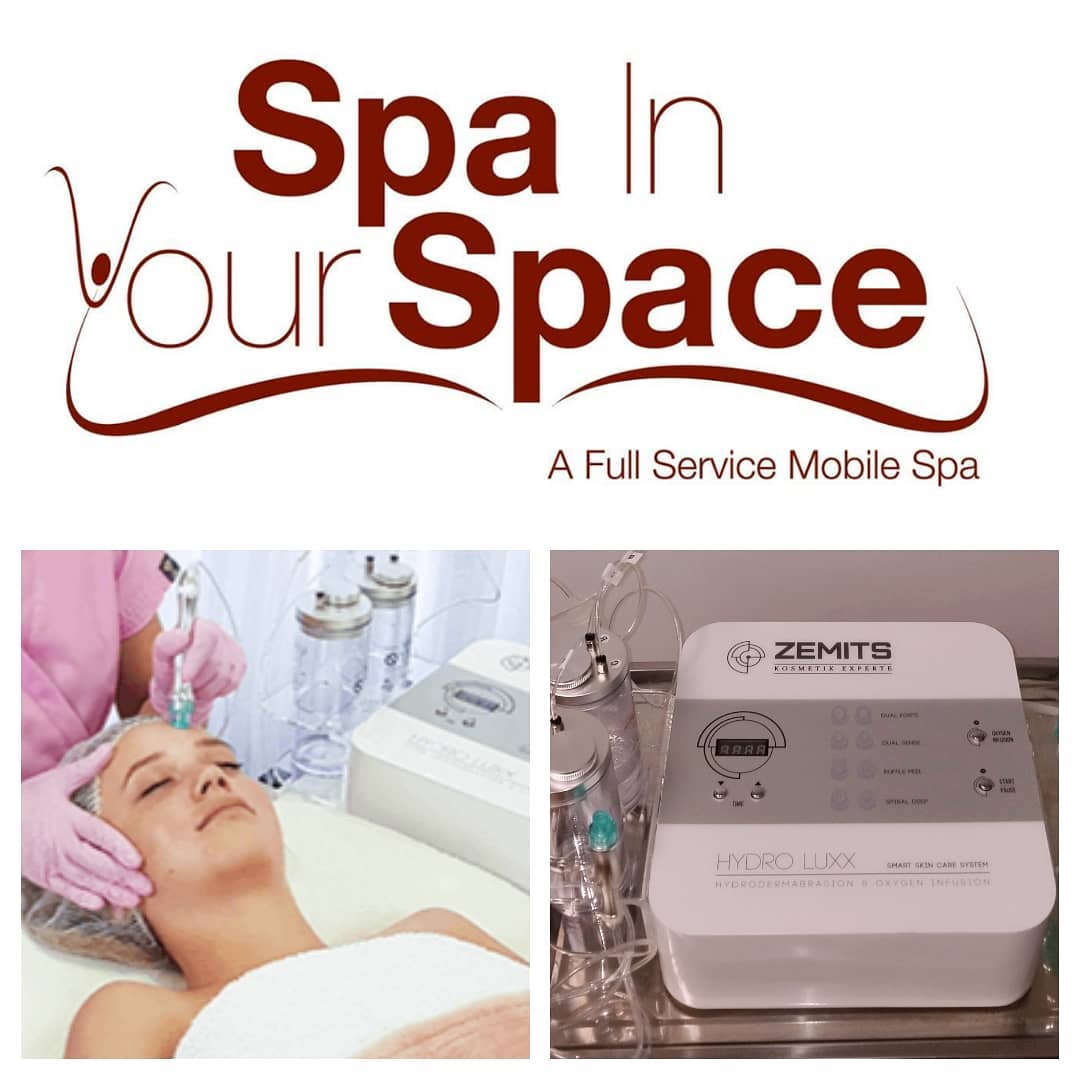 Royalty Deluxe Package(2 Guests - $430 total)
Services Include the following:
Hydro Luxx + Oxygen Infusion Facial
Using the latest technology, this facial begins with a hydro cleanse that gently exfoliates while infusing powerful nutrients into the skin. The four step process, powerfully removes deeply embedded congestion an unclogs pores. The Oxygen treatment lightly mists antioxidants and other important nutrients onto the skin. Your skin will feel clean and refreshed, unlike anything you have ever experienced. As an added bonus this package also includes a Healthy Aging Home Skin Care Kit with 5 Products: Foaming Peptide Cleanser, Mandelic Defense Toner, Antioxidant Complex Serum, Eye Revitalizer, Elite eEGF Moisturizer - ($72 Value)
60 Minute Full Body Massage
Swedish Massage
Rejuvenating massage with gentle strokes and consistent kneading to release tension and relax your mind, body and soul.
Deep Tissue Massage
Allow us to loosen those areas where your muscles haven't been touched to help you release your muscle tension and increase your flexibility.
Royalty Deluxe – Purchase Now!!!
---
---
---
Fine Print For Spa Specials
**Only valid in Chicago and surrounding suburbs
**This Holiday Luxe Package can be redeemed January 7, 2019 thru May 31, 2019
**Promotional Value Expires May 31, 2019
**All services detailed in special must be used in one Event/Spa party.
**Purchase limit 2 of each special per person, up to 1 additional of each special as a gift.
**Limit of 1 special of any type can be redeemed at each Spa party or Corporate event.
**Each special is subject to all terms and agreements of our Spa agreement (http://www.spainyourspace.com/signed-spa-agreement)
**Date of your Spa party or Corporate event is subject to availability.
**Cancellation/Re-scheduling of Spa party or Corporate event must take place at least 72 hours before the event or special is subject to forfeiture.
**Travel fee may apply based on location.
**Reserve the date and time of your Spa party here: http://www.spainyourspace.com/reservation-request/
**Payment in full is needed to secure the special.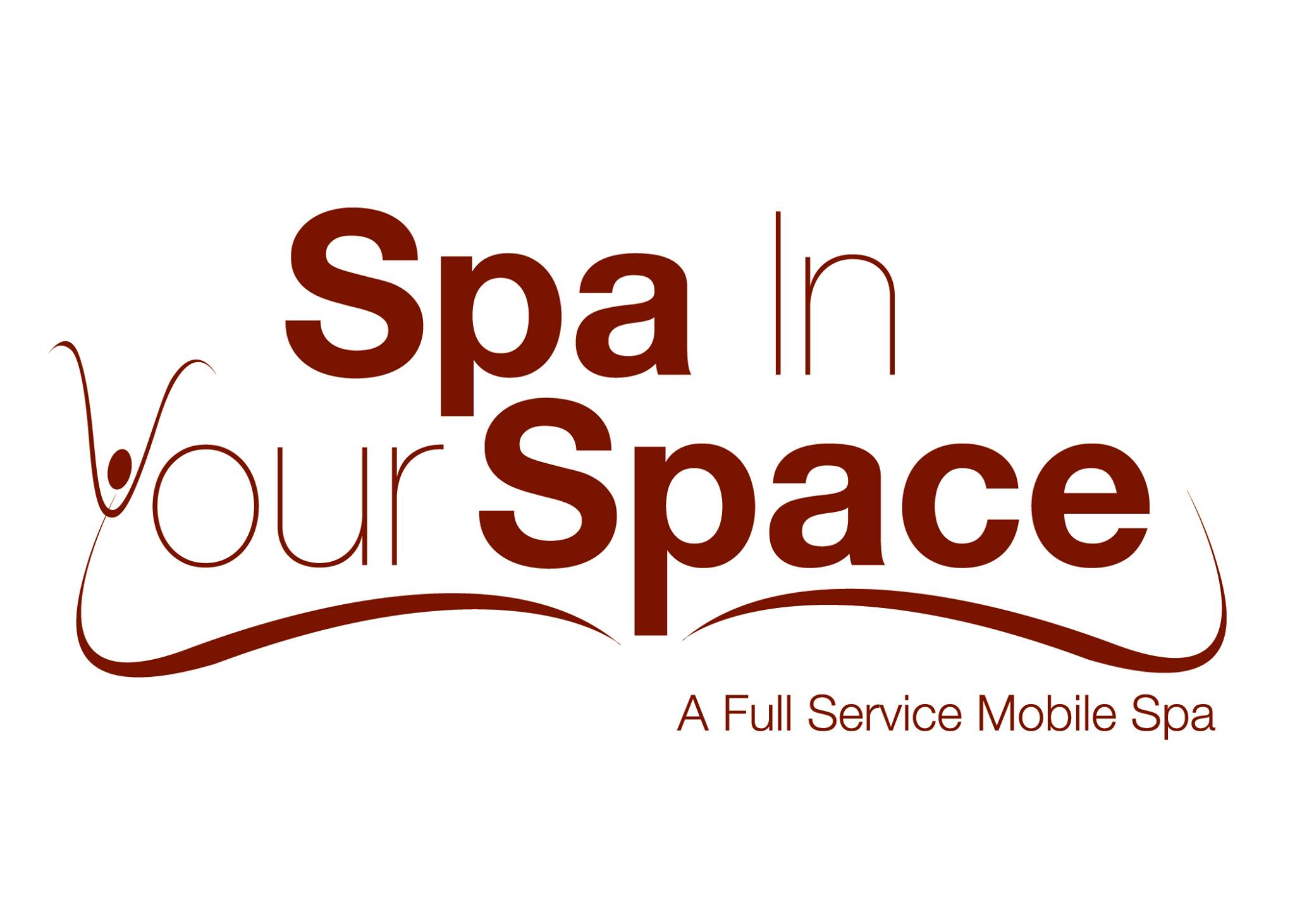 Reserve Your Spa Party or Corporate Event Now!
Make a reservation: Complete the online Reservation Request form to check availability of your requested date and time. You can also email us directly at info@spainyourspace.com to verify if your requested date/time is available.
Reserve Your Spa Party or Corporate Event Now!
Please click the button below to provide us with information for your upcoming Spa Party or Corporate Event.
Click Me!